Why invest in Sports
Alternative assets like investment-grade sports teams & leagues have outperformed the S&P, gold & real estate in the last decade. After a few high-profile acquisitions, certain leagues have surged in price, carrying over to the entire industry.
This does not include the dramatic rise of e-sports in the last few years, which has out-paced practically every other investment class.
But up until now, these opportunities have been prohibitively expensive or just not available. That's why we've created GamedayInvest.
We give fans the chance to own a piece of the things they love & live for, no matter their income level.
And we make it as easy as investing in the stock market.
Transparency
We make all available investments extremely transparent in order for our investors to make informed decisions.
However, we allow teams to hold back certain private information in order to – competitive advantages.
Join
Vetting
We don't let any team on our platform. We provide an in-depth audit on every team that would like to be featured & will only feature the best opportunities to our investors.
Learn More
Access
We provide access to investment opportunities that have not existed to sports fans & investors to date.
Learn More
RETURNS
The Sports Industry has performed 71% better than the S&P 500 since 1991
Since 1991, the S&P 500 averaged only a 7% return. The sports industry has performed 71% better, returning a 12% annualized return. Invest in an asset that you understand and that has performed better historically.
Learn More
OBJECTIVE:
DIVERSIFICATION
What does a diversified portfolio look like?
There are a variety of methods investors may use to determine their ideal portfolio allocation. But too often portfolios leave out non-traditional asset classes, such as sport teams & leagues.
While the appropriate allocation of risk will vary by investor based on their age, financial goals or income, we believe it should be considered as part of a diversified portfolio.
Learn More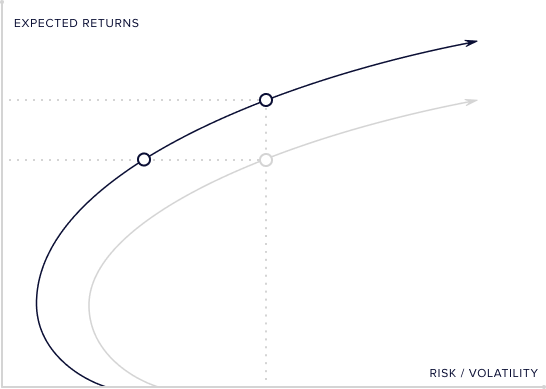 Example of an efficient frontier. Traditional investments with & without alternatives
RANGE OF
OPPORTUNITIES
Investment Type
Startup
Mid-Market
High-Growth
Blue-Chip
Probability of:

Risk of Loss

Annual Cash Return

Annual IRR

Risk

Higher

Medium

Higher

Low
Growth
Very High
Medium
High / Medium
Low / Medium
Annual Cash Return

$$$$


N/A

$$

$$


Low / Medium

$

$$$


Low

$$$

$


Medium
Annual IRR

$$$$


High

$$

$$


Medium

$$$$


N/A

$

$$$


Low
Sports
Long-Tail / Edge
Established / Blue-Chip
Established / Long-Tail
"Big 5"
Markets
Small, Mid-Market, Large
Small, Mid-Market
Mid-Market / Large
Large
Example
An Ultimate Frisbee team in a large market
A soccer team in a medium sized US market (Chattanooga - TN, Des Moines, IA, etc)
A new E-Sports team in a large market
Basketball team in Top 10 city in North America